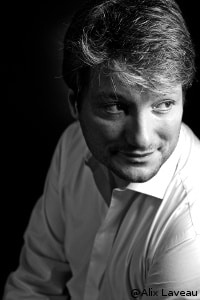 Following his studies at the Paris Conservatory, Jérôme Pernoo has been rewarded many times in important international competitions: Winner at the Tchaikovsky Competition in Moscow, 3rd Prize at the Rostropovich Competition in Paris in 1994 and 1st Prize at the Pretoria Competition in 1996.
Jérôme Pernoo performs with most of the major French symphonic orchestras and works closely with the Ensemble Matheus and Jean-Christophe Spinosi. He was invited with him at the Salzburg Festival in 2010 and at Carnegie Hall in New York in 2013. Abroad, he plays with phalanges such as the Deutsches-Symfonie Orchester Berlin, the Chamber Orchestra of Europe, the " Vienna Symphony Orchestra, the Bayerische Staatsoper Orchestra in Munich, the Zurich Opera Orchestra, the National Orchestra of France, the Orchester du Théâtre Royal de la Monnaie, the National Orchestra of Spain or the Stockholm Radio Orchestra conducted by Marc Minkowski, Stéphane Denève, Alain Altinoglu, James Gaffigan, Jérémie Rohrer…
He plays with pianist Jérôme Ducros in recital on some of the most prestigious musical stages: the Berlin Philharmonic, the Wigmore Hall in London, the Musikverein in Vienna, the Théâtre des Champs-Elysées, the Théâtre du Châtelet and the City of Music in Paris. His other chamber music partners are: Alina Ibragimova, Renaud Capuçon, Gérard Caussé, Antoine Tamestit, Henri Demarquette, Christophe Coin, Frank Braley, Nicholas Angelich, Eric Le Sage, Bertrand Chamayou, Emmanuel Pahud, Paul Meyer, the Artis quartets , Ebony, Modigliani, Chiaroscuro…
Dedicated to works by composers such as Guillaume Connesson, Jérôme Ducros or Jérémie Rhorer, in 2008 he performed as a world premiere the concerto for cello by Guillaume Connesson and in 2017 the Double concerto for cello and piano by Jérôme Ducros with the Orchester de Pau-Pays de Béarn and Fayçal Karoui.
Jérôme Pernoo is co-founder of the Deauville Easter Festival, then in 2005 he created the Les Vacances de Monsieur Haydn festival in La Roche Posay, of which he is the artistic director.
In 2015, he founded the Paris Chamber Music Center (in residence at the Salle Cortot) which is a place of transmission and sharing of chamber music.
He recorded for Deutsche Grammophon the Offenbach Concerto with Marc Minkowski and the Connesson Concerto with Jean-Christophe Spinosi (Choc de Classica). With Jérôme Ducros, he published the sonatas by Rachmaninoff and Bridge, as well as Beethoven's "Kreutzer Sonata". In 2012, a CD was released entirely dedicated to Guillaume Connesson's chamber music at Sony (Choc de Classica). In 2020, a Brahms record is released with Jérôme Ducros and Florent Héau.
He currently plays an anonymous 18th century Italian baroque cello and piccolo cello, Milan school, as well as a modern cello made for him by Franck Ravatin.
In 2005, Jérôme Pernoo was appointed cello professor at the Paris Superior Conservatory CNSMD – Conservatoire National Supérieur de Musique et de Danse.
Jérôme Pernoo would like to pay tribute here to those who taught him the cello: the very devoted Germaine Fleury, Klaus Heitz, Xavier Gagnepain and Philippe Muller at the Paris Conservatory.