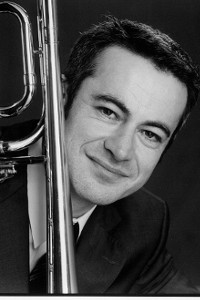 Jean Raffard wa born in Orléans (France). 
After studying the violin, the harmony and the trombone, he entered the Superior School of Music in Paris in 1984 and studied trombone  with Gilles Millière. 
In 1987, he obtained a First Prize of trombone and also a First Prize of Chamber Music. In 1990, he is admitted to follow an improvement cycle.
Then, he is successively solo trombone of numerous orchestras such as : Orchestre de la Garde Républicaine, Lyon  Opera Orchestra, Lyon National  Orchestra, Amsterdam Concertgebouw Royal Orchestra and Paris  Opera  National Theater Orchestra.
He is also teaching the trombone as a professor at Boulogne Billancourt National  Conservatory and as an assistant professor at Paris Superior Conservatory – CNSMD.
Jean Raffard is director of collection for Billaudot.
He won several International competitions in Prague (1992), Toulon (1995) and Munich 1995).
Jean Raffard is playing a trombone Courtois Legend AC 420.