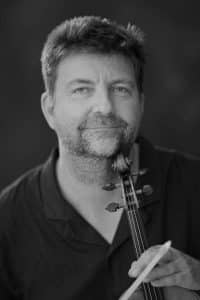 Jan Bjøranger is one of Scandinavia's violinists and leading ensemble directors.
He is the founding artistic director of the ensemble 1B1. He is a creative artist who lives his life between tutoring and performing. He collaborates regularly with artists like Leif Ove Andsnes, Lars Anders Tomter, Yejin Gil, Clemens Hagen, Benjamin
Schmid, Christian Ihle Hadland, Kristjan Järvi and Steven Sloane.
Throughout his career, Jan Bjøranger has shown a strong instinct as a musical
entrepreneur. He was the artistic director of the Umeå International Chamber
Music Festival in Sweden for six years, as well as the founding artistic director of
the «Classics in the Center» festival in Norway. He is also co-artistic director for
the festival Virtuoso and Belcanto in Lucca, Tuscany – Italy.
He says that his work to establish 1B1 triggers both his musical skills as well as the entrepreneur and educator in him. The ensemble has established itself in the forefront of musical enterprise, winning prices and being recognized by for instance
Vanity Fair as «one of the seven most important on the classical scene today»
Due to this, Bjøranger is a sought-after leader for ensembles and orchestras in Europe, including MDR Symphonie Orchester, Camerata Salzburg, the Scottish
Chamber Orchestra, Gothenburg Symphony, Danish Radio Symphony Orchestra,
as well as the Trondheim Soloists, the Norwegian Chamber Orchestra and the Danish National Chamber Orchestra.
As a soloist and chamber musician, Jan Bjøranger has performed in several countries in Europe and overseas.
Bjøranger has a strong didactic perspective to his artistic work.
At the moment he is professor at the Universität der Künste in Berlin. He is also giving masterclasses all over the world.
Jan Bjøranger has participated in a great number of recordings as a soloist, for labels like Simax, BIS, Phillips, Sony, CcnC, Chandos and EMI. He was awarded the Norwegian Grammy for the recording of Grieg's music for strings. His Mozart/ Haydn recording with Clemens Hagen and Lars Anders Tomter has received extraordinary international reviews.
As a performer and director Bjøranger has cooperated with composers like Arvo Pärt, Steve Reich, James MacMillan, Mark Anthony Turnage, Piers Hellawell,
Daniel Schnyder, Rolf Wallin, Hafli∂i Hallgrimsson and Giya Kancheli. This also
gives him a standing among actors on the contemporary music scene.