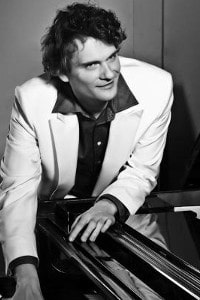 Hardy Rittner, born in Rüsselsheim in 1981, began instruction in piano at the age of four and his study of the piano and early piano in 1998 at the Mozarteum University of Salzburg in the classes of Karl-Heinz Kämmerling and Siegbert Rampe. After receiving his diploma with distinction in 2003, he continued his education under Klaus Hellwig at the University of the Arts in Berlin, passing his concert examination in February 2010. It was also in 2010 that he completed a program in an additional major field, the study of music theory under Prof. Dr. Hartmut Fladt. Hardy Rittner attended master classes taught by Paul Badura-Skoda, Dominique Merlet, Christian Zacharias, and Andrei Gavrilov and benefited from the mentorship of Maria João Pires, Sylvain Cambreling, Ivo Pogorelich, and Krystian Zimerman. Since May 2009 he has received funding from the start program of Bayer Kultur.
Concerts have taken Hardy Rittner to almost all the European countries, the United States, South Korea, and Taiwan, where he guested at venues such as the National Concert Hall in Taipei during a tour in 2001. During the summer of 2007 the German president invited Rittner to concertize at Bellevue Castle, and most recently he has debuted with success in sold-out performances in the large halls of the Konzerthaus am Gendarmenmarkt in Berlin and at the Oetker Hall in Bielefeld.
His Brahms CD release on MDG, the first recording worldwide of the composer's Early Piano Works on original pianofortes of the nineteenth century (J. B. Streicher piano, 1851, and Ignaz Bösendorfer piano, 1849-50), received outstanding reviews (e.g., klassik.com, FonoForum, and hr2 Kultur CD in Germany, Supersonic Award in Luxembourg, and Fanfare in the United States) and numerous awards – as has his release featuring Arnold Schönberg's complete piano oeuvre. In October 2009 Hardy Rittner was awarded the Echo Klassik Prize in the category "Young Artist of the Year". On 17 October 2010 his recording of Schönberg's piano works then received an Echo as the "Solo Recording of the Year (20th-21st Century): Piano".
In May 2012, MDG released Rittner's recording of all of Chopin's Etudes on a Conrad-Graf Piano from 1835, which is highly praised throughout the press. Six of the Chopin etudes were aired all over Germany at the ARD Radio Festival 2012.
Since April 2016 Hardy Rittner is piano professor at Musikhochschule Freiburg.