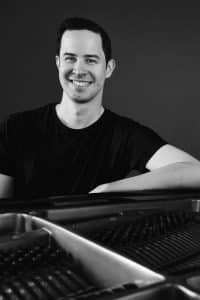 Swiss pianist Guillaume Moix developed a passion for music at a very young age. After obtaining an undergraduate degree at the Higher Conservatory and Academy of Music Tibor Varga in Sion, he continued his studies at the Hochschule der Künste in Zurich, where he obtained with distinction the Master of Concert as well as the Master of Soloist in the class of 'Homero Francesch.
During his studies he also studied lied accompaniment with Hartmut Höll, pianist of Dietrich Fischer-Dieskau.
He has performed in solo recital or with orchestra in several European countries as well as in South America. Appreciated for his musical qualities, he was recently invited to the Berlin Philharmonic, Carnegie Hall in New York as well as to the Musikverein and the Konzerthaus in Vienna to perform with prestigious soloists, including Hiroko Katoh, Tamara Bansejevic. or Gabriel Cano. Since 2010, he has formed the Duo "Bella Tola" with Romana Kaiser, cellist and records with her works by Barber, Schumann, Pärt and Granados.
Being concerned and interested in transmitting his passion to the youngest, Guillaume Moix is piano Professor at the Music Conservatory in Geneva.
He is also artistic advisor to the Schubertiades de Sion and currently resides in Lausanne.