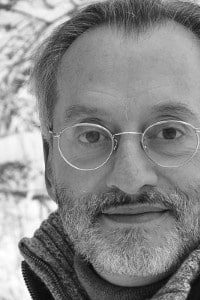 Gualtiero Dazzi was born in Milan in 1960. Cosmopolitan, polyglot and tireless traveller, he moved in several countries since very early in his life. A lot of cultural and artistic influences are very presents in his fundamental curiosity, and in his works. This dynamic is reflected in his musical production that includes more then 70 works such as orchestral works, chamber music, vocal music, operas, electronic music, interdisciplinary works, crossover with other musical traditions, experimental music, improvisation, etc.
His first opera "La rosa de Ariadna" a tragedy inspired from the mythology and based on a libretto by a Mexican poet Francisco Serrano, was first performed in Musica Festival in Strasbourg in 1995, staged by Stéphane Braunschweig. This production was considered from the critics as one of the best complete works of the contemporary operatic scene of the last years.
It is this deep attention to the dramaturgy that gives to Gualtiero Dazzi the will he has to put the musical works in a very large cultural perspective. The relation between text and music give to his music all its expressivity, and a clear theatrical dimension.
His fourth opera "Le luthier de Venise", commissioned by Théâtre du Châtelet in Paris, was staged by Giorgio Barberio Corsetti in 2004. The challenge, for the composer and the librettist, was to compose a new work that can be easily include a normal operatic public, and young children from the age of 8, without any compromise in musical language. All the critics were eulogistic: they say that this opera gives the possibility that a non-specialist public can become reconciled with the contemporary lyric operas.
In 2009 Gualtiero Dazzi received the Florent Schmitt price for musical composition, discerned by the Fine Arts Academy of the Institut de France, as an acknowledgement for his work in that country.
His next composition "Am Saum des Gedankens", for soprano, double choir and orchestra, is conceived to answer and to be interpreted in same concert of Mozart's Requiem.
Recently, "Le jeu de la feuille et du vent", for large orchestra, was created as part of the Festival Attendance March 8, 2009 at Radio France in Paris with the Rai "Orchestra Sinfonica Nazionale" with conductor Daniel Kawka ; rescheduled as part of symphonic season 09/10 of Rai orchestra and presented in the international forum of UNESCO Radio classical music in Lisbon, this work was selected to be played on radio stations in 40 countries.