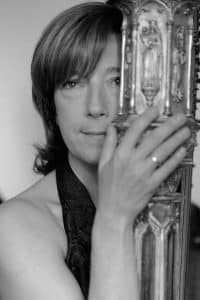 Born into a family of literary teachers and enlightened music lovers, Françoise de Maubus very early on asserted a dual vocation as a musician and a teacher.
A student of Jacqueline Borot and Gérard Devos, she obtained in 1990 at the Conservatoire National Supérieur de Musique in Paris, the first prizes for Harp and Chamber Music.
Her meeting with Leonard Bernstein in 1987 is a revelation. She is therefore passionate
for the profession of orchestra.
In 1995, she was named Solo Harp of the Orchester des Concerts Lamoureux conducted by
Yutaka Sado.
Several times a year, she is invited to play in international orchestras: Berlin Philharmonic Orchestra, Philharmonic Orchestras of Radio France, Amsterdam, Porto (….) conducted by Claudio Abbado, Sir Simon Rattle, Gustavo Dudamel, Marek Janowski, Myung-Whun Chung, Pierre Boulez, James Levine, Christian Thielemann, Seiji Ozawa, Ricardo Muti …
She also plays on period instruments in collaboration with Les Musiciens du Louvre, Les Siècles, Le Cercle de l'harmonie.
At the same time, she performs in concert, both in solo harp and in chamber music, on 20th century French music programs that she loves particularly and readily associates with literature with the complicity of actors.
She is also invited to give masterclasses and play alongside the pianist François Chaplin, in July 2019, at the Pontlevoy Festival.
Finally, holder of the Certificate of aptitude for the functions of harp teacher since 1995, she
taught for ten years in the conservatories of the City of Paris before being appointed to the CRR – National Conservatory of Versailles in 2006.
Françoise de Maubus regularly participates in juries of national and international competitions, National Conservatory of Music in Paris, at the Lily Laskine International Competition and since 2016 at the Moret sur Loing International Meetings Competition, and at the First International Harp Competition in Porto.