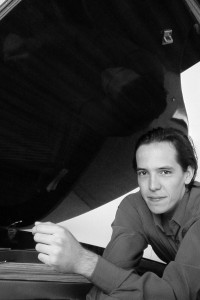 Pianist Fábio Godoi was born in São Carlos, Brazil, where he began studying music. He moved to São Paulo to pursue his studies in piano at São Paulo State University (Unesp) in the class of André Rangel. At this time Fábio awarded a grant in the Special Training Program in Music which lead him to participate in the Unesp "Studio of contemporary music" as a performer and organizer.
After further studies with Marisa Lacorte in Brazil he went to France to work with pianist Amy Lin. He received his specialisation diploma at Strasbourg Conservatory and his Master's degree in Piano Performance at Haute École des Arts du Rhin/Académie supérieure de musique de Strasbourg. At the same time he prepared a dissertation on piano works of composer Almeida Prado, under the supervision of Pierre Michel, at the University of Strasbourg (Unistra). During his studies Fábio also participated in several masterclasses with renowned musicians such as Alicia de Larrocha and Leon Fleisher.
Fábio performs regularly in recital and chamber music in his native country and in Europe. He has appeared at the Festival Suona Francese (Parma, Italy), the concert series Música no Museu (Rio de Janeiro, Brazil), the Internationales Begegnungszentrum (Munich, Germany), the Saint-Étienne Temple (Mulhouse, France), the Museum of Art of São Paulo (Brazil), the Latin American Festival (Strasbourg, France), among others. His interest in New Music led him to create the Dualphα along with Brazilian percussionist Ronan Gil de Morais, in order to promote and expand contemporary repertoire for these instruments.
Passionate about pedagogy, Fábio has been teaching the piano for several years; he also gives masterclasses and commented recitals. Currently he is piano professor at Strasbourg CRR National Conservatory.