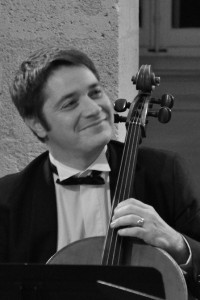 Fa
bien R
apaud studied at Nice CRR – Regional Conservatory where he received numerous awards including the Gold Medal of cello, a horn diploma and a prize for chamber music. He continued his studies in the class of P. Bary at Paris Conservatoire, where he won the first prize of the City in 1995.
That same year, he won the second prize at the International chamber music Competition of Arles.
In 1997, he became member of the Orchestra Cologne. He collaborates regularly with such ensembles as the Paris National Opera de Paris, the National Orchestra of "Pays de la Loire", the Nice Philharmonique Orchestra and the Symphonic Orchestra of the Aube .
Fabien Rapaud is also member of "Accord Parfait" Quartett.
Fascinated by all styles of music, Fabien Rapeau recorded soundtracks, pop rock albums, French varieties, and he is also playing classical chamber music with equal success. He works with Clyde Wright (Golden Gate Quartet), Marc Jolivet ( "Comic Symphony " ) and he also participates in the revival of the show "Swan Lake" by Matthew Bourne at the Paris Mogador Theater.
Fabien Rapaud creates a show on the 5th Suite from J. S. Bach for solo cello with four dancers hip hop at the Festival "Dance Cities" in Suresnes. In 2013, he participated in the creation of the show "Silence, on tourne" presented at the Festival "C'est pas classique" in Nice.
In addition to his concert activities , Fabien Rapeau is cello professor at the Conservatory Paul Dukas – Paris XII and also at the conservatory – CRD of Meudon. He i also regularly invited to teach master-classes in France.