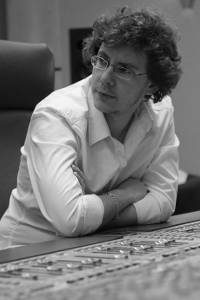 B
orn in 1981, David Reyes began studying music and trained as a cellist. He developed an interest in orchestral music early on, through practice with various ensembles, but also through listening to and reading numerous works. However, it is by writing music for a school show at the age of 15 that he realizes his passion for composition, a strong, visceral passion that will never let him go…
He tries to escape this by following a director training course at the IAD (Louvain-la-Neuve, Belgium), from which he graduated in 2003 with the short film 35mm "I hate music ! "… and a thesis on film music!
During all this time, music never lets go of him, since he composes the music for his own fiction, and also works for documentaries, short films, television soundscapes, a play and various classical plays. At the end of his cinema studies, he left Belgium to study at the Ecole Normale de Musique Alfred Cortot (Paris, France), from which he graduated unanimously with the jury's congratulations. He also broadens his knowledge by taking a course in electroacoustic composition at the GRM.
Award-winning for his works, notably at the Festival Mondial de l' Image Sous-Marine (Antibes, France) in 1999,2000 and 2001, he also benefited from the invaluable advice of great composers (Laurent Petitgirard, John Scott, Philippe Rombi, Gabriel Yared, Bruno Coulais…) during various masterclasses.
After composing some forty short films, he signed his first professional long format in 2006 with the music of the docu-fiction "Paris 2011 – La Grande Inondation" (Bruno Victor-Pujebet); he will follow several documentaries such as "Superpouvoirs de la Taupe" (Pierre Bressiant),"Lascaux le Ciel des Premiers Hommes" (Stéphane Begoin) and some episodes of the "
At the end of 2007, he met the cinema by composing and orchestrating most of the music for Luc Jacquet's film "Le Renard et l' enfant" (2.5 million admissions). His second feature film as a composer,"Min Ye" by Souleymane Cissé, is presented in Official Selection at the 2009 Cannes Film Festival (out of competition). He also composes the music for Julien Serie's TV movie "Facteur Chance" for TF1.
In 2010, he is a member of the jury for fiction at FIPA and composes for various films and documentaries, including the series "Enquêtes Extraordinaires". In 2011 he signs the music of "Derrière les murs" by Julien Lacombe and Pascal Sid, which is the first French film shot in 3D and mixed in 7.1. In 2013 he accompanies Dave's first film steps with the music of "Une Chanson pour Ma Mère" and signs the score of the Kurdo-German-Norwegian film "Before Snowfall" which won the Dragon Award at the Göteborg Festival. He has also signed the music of "Alésia le Rêve d' un Roi Nu", permanently presented at the MuséoParc Alésia, as well as the music of the new Battle of Fromelles Museum.
Member of the jury at the Aubagne International Film Festival in 2014, he is also Artistic Director of the "Musicales Guillaume Lekeu", Festival taking place in Verviers in September.
In 2015 he created a film music composition class at the IMEP (Namur, Belgium) where he now teaches in parallel to his activities as a composer. 2018 will mark his return to cinema with the music of "Un jour ça ira" by Stan and Edouard Zambeaux.
David Reyes is a final member of SACEM, member of ADAMI, UCMF and BSCG.