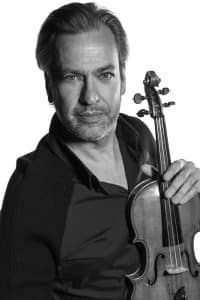 David Lefèvre represents perfectly, through his passion, his talent and his musical eclecticism, a dynamic and strong aspect of today's violinists.
After a First Prize with honors at the Conservatoire de Musique de Montréal, he is one of the rare Canadian musicians to have had the honor of receiving, for three consecutive years, the major scholarship from the Canada Council for the Arts. Thus, he will be able to complete an advanced course at the National Conservatory of Music in Paris.
Winner of the Yehudi Menuhin and Gyorgy Cziffra Foundations, First Grand Prize of the Douai International Violin Competition, David Lefèvre then began a career as a soloist: Orchester National du Capitole de Toulouse, Orchester I Musici de Montréal, Orchestra of the Gulbenkian Foundation of Lisbon, Philharmonic Georges Enescu of Bucharest, Orchester Symphonique des Baléares, Orchester Philharmonique de Monte-Carlo, London Mozart Players… He has played under the direction of Michel Plasson, Jonathan Darlington, Lawrence Foster, Jean-Claude Casadesus, Marek Janowski, Peter Oundjian, Theodor Guschlbauer, Vaclav Luks, Simone Young, Matthias Bamert.
Chamber music is also an integral part of his musical universe. He is a partner of musicians such as Roland Pidoux, Patrice Fontanarosa, Bruno Rigutto, Marielle Nordmann, Anne Queffélec, Katia Buniatishvili, Gary Hoffman, Régis Pasquier, Andrey Yaroshinsky, Nicolas Angelich. It can be heard regularly at major festivals in France and abroad (Festival de Besançon, Festival du Domaine Forget, Festival International d'été de Lanaudiėre, Printemps des Arts de Monte-Carlo, Festival d'Alghero, Festival du Budapest Spring…).
Alongside his activities as a soloist and chamber musician, David Lefèvre was Principal Violin Supersolist of the Orchester National du Capitole de Toulouse from 1993 to 1999. He was artistic director of the ClassicaVal Chamber Music Festival in Val d'Isère from 1994 to 2016.
His recordings released by Solstice and Zig-Zag Territoires between 1993 and 2004 have all been hailed by French and international critics. Let us particularly mention the sonatas for violin and piano by Korngold and Richard Strauss, the sonata for solo violin by Bartók or the quintet "The Trout" by Schubert.
Between 2008 and 2011, he collaborated actively with his brother, the pianist Alain Lefèvre, with whom he performed regularly in recital and as a soloist. Their records are universally acclaimed and have received numerous awards: the Grand Prix for Classical Album of the Year in 2009 and 2010 at the Gala de L'ADISQ (Quebec), the award for Best Classical Record 2010 at the Gala des Prix Juno (Canada) as well as the prestigious "CD of the month" award in September 2011 from the famous music magazine Gramophone.
He is the dedicatee of musical works. In particular the Dixtuor by Jacques Boisgallais created at the Opéra Garnier in Monte-Carlo. More recently, the Concerto for violin and orchestra by the Italian composer Marco Taralli was created with immense success with his Philharmonic Orchestra under the direction of Philippe Béarn.
Since 1999, he has been Principal Supersolist Violin of the Monte-Carlo Philharmonic Orchestra. Between 2007 and 2016 he was the principal guest solo violinist at the Calouste Gulbenkian Foundation Orchestra in Lisbon. And between 2014 and 2018 that of the Philharmonic Georges Enescu of Bucharest.
David Lefèvre mainly draws the foundations of his pedagogy from his thirty years of experience as a solo violin supersoloist, soloist and chamber musician. His teaching is certainly distinguished by a global vision of the musician: The practice of the instrument and its perfect knowledge. His in-depth work methodology integrates the musician's environment, his physical and mental condition. Everything is, according to him, intimately connected and intertwined. Everything is, according to him, intimately connected and intertwined.
As a pedagogue he has, among other things, taught from 1996 to 2006 at the National Conservatory of Music in Paris (CNSMDP). He also directed and trained for five years the first violins of the "Orchestre Français des Jeunes (OFJ)". Invited for four consecutive years to the Nice International Summer Academy, many foreign institutions also regularly call on him: the Oficina de Musica de Curitiba (Brazil), the Musical Accademia of Brescia (Italy), the University Bucharest National Music Festival, the Música Junior Festival in Portugal. And more recently the Music Conservatory of Geneva (Switzerland), the Conservatory of Zaragoza (Spain) and the Polish National Radio Orchestra of Katowice.
Recently, he was entrusted with the management with the direction of the Philharmonic Orchestra, of the magnificent violin of Jean-Baptiste Vuillaume offered by the famous violinist Henryk Szeryng to Prince Rainier III and now part of the collections of the princely goods.
David Lefèvre is very proud to be an ambassador of NEWZIK, a reference software for reading musical scores.
Since November 2018, David Lefèvre has had the pleasure of being dressed for his concerts by the famous Italian fashion designer CARLO PIGNATELLI.
He currently plays a magnificent instrument by Pietrus and Antonius DALLA COSTA made around 1750.