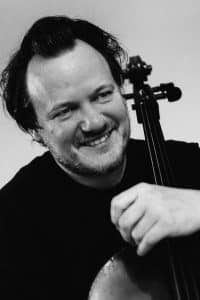 Daniel Geiß is one of the most versatile musicians of his generation. Born in Essen, he studied violoncello with Janos Starker and Maria Kliegel, conducting with David Effron and Michael Luig, chamber music with Menahem Pressler, the Alban Berg Quartet, George Crumb and Philipp Glass.
Daniel Geiß is a regular guest at various chamber music festivals such as the Schleswig-Holstein Music Festival, the Rheingau Music Festival, the Cantiere Internationale d'arte Festival, the Mosel Music Festival, the Savannah Music Festival, the Prague Music Festival, the Bristol Proms, the Porto Music Festival and Tokyo Spring Festival. His chamber music partners include such musicians as Daniel Hope, Lynn Harrell, Sebastian Knauer, Jacques Ammon, Danish String Quartet and Nigel Kennedy. He has worked with such conductors as Kirill Petrenko, Christian Thielemann, Kurt Masur and Marek Janowski and is a member of the Bayreuth Festival Orchestra.
As a conductor, he made his debut in 2013 in the Berlin Philharmonic and at the Teatro Colon in Buenos Aires. In 2016 he conducted a concert of the Zurich Chamber Orchestra with Daniel Hope at the Schleswig-Holstein Music Festival, which was recorded for the movie "The Sound of Life". In 2018 appearances took him to Budapest, Linz, Ljubljana, St. Petersburg and Graz. In 2019 he gave his Japan debut at the Springfestival in Tokyo with the KiO "The Flying Dutchman" under the direction of Katharina Wagner, he also conducted at the Musikfest Leipzig, tooking over the direction of the Bundesschulmusikorchester (German-National-Student-Orchestra) and he gave his Italian debut at the opening concert of the 44th Cantiere internationale d'arte Festival in Montepulciano. In 2020 he will conduct the opening concert of the Festspiele Mecklenburg-Vorpommern, continue the Wagner cycle in Tokyo with "Tristan". He is also appointed music director of the St George Strings Chamber Orchestra Belgrade.
Daniel Geiß teaches violoncello at the Hochschule Mainz and the Peter-Cornelius -Conservatory in Mainz and gives masterclasses in Italy, Germany, Switzerland, Serbia, Portugal and Russia.
His students have repeatedly won first prizes at the national and international competitions, such as Young-Musicians-Award Germany, Dotzauer Competition, international Lions Competition, "Cidade de Vigo Competition", "Musica pro Arte Competition". Former students are now members of orchestras in Germany, Austria and Switzerland.
Since 2014 he is Artistic Director of the innovative teaching concept KLANGLABOR, a guiding principle for a future oriented orchestra education, which holds projects in Mainz, Graz, Dortmund, Lucerne, Heidenheim (as part of the Opera Festival), Montepulciano, Leipzig and as part of the EUphony orchestra project in Linz, Budapest, Belgrade, Zagreb, Vienna, Ljubljana and Cluj.
In 2019 he was invited to be part of the faculty of the distinguished Hope-Academy in Berlin, were he will return in 2020.