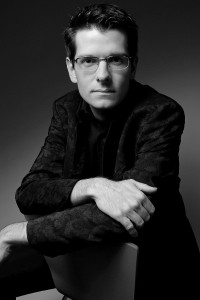 Organist and musicologist, Cyril Pallaud is Associate Professor in Music. He taught at the University Michel de Montaigne Bordeaux III and served on the Worlds Study Center Modern and Contemporary University of Bordeaux ; founding member of Organs and Imaginary, emerging axis of research, dedicated to the organ, he is preparing a thesis on organ and Alsatian society. Director of the International Season of Sacred Music & Organ Alsace, editor of the Journal of History of the Organ in Alsace (RHOA), he is also host of the "voice of angels", radio show (Accent 4) dedicated to organs.
Holder of a 1st organ prize unanimously with honors in classes of Estelle Gerthoffert and Eric Lebrun, he specialized with Lorenzo Ghielmi (Schola Cantorum Basiliensis) in Baroque music and has received teaching Francis Jeser and Glenn Chambers singing.
Having won the Bach-Monsaigeon Prize 2008 for the best interpretation of the works of the cantor of Leipzig and winner of the International Academy of St-Bertrand-de-Comminges in 2009, his academic research have been awarded the Observatory Musical Award French in 2010. In 2011, his entire career was crowned by the Future Talent Prize Fond'action Alsace. In 2012, the last record in the CD collection he heads won the "Golden Leo" discography highest distinction awarded by the association "Boëllmann-Gigout". Finally, in 2014, his last recording was awarded the Leon d'Or in 2014.
Cyril Pallaud in 2009 was appointed Kapellmeister of the Parish of the Glorious Cross of Colmar, he conducts the alsacian Chœur de Chambre. Since 2014, he is also conductor of the SACRA Capella choir and semi-professional orchestra specialized in sacred music. Finally in 2015, he was appointed conductor of the Vocal Ensemble in St. Louis (VOCALYS).
He performs regularly in France and abroad, in various international festivals (St Bertrand de Comminges, Organi Antichi Bach in Combrailles, Muri, Freiburg, Bordeaux, Ebersmunster …). He was accompanying the "Choir of the Three Borders", also the Paris Maîtrise "Aposiopée", the female chorus of Colmar "Elegy", and has also been a soloist with orchestral ensembles, such as the "Philharmonie".
His discography includes, among other things, a record of numerous organs such as Oberhergheim organ, Offwiller organ and Steinbrunn-le-bas organ. After participating in the recording, the world premiere of the complete work of organ Leon Boëllmann, it is preparing the release of his next album dedicated to the integral of the organ works of Georg Muffat .
Cyril Pallaud is a regular lecturer in international lectures. Repeatedly called by the Strasbourg Philharmonic Orchestra, he gave lectures on Bach and Vivaldi. He has written over the past five years, more than twenty scientific lectures and publications.
Cyril Pallaud is teaching organ in Alsace and works with primary schools to sensitize young people to classical music (5000 children visited in six years).