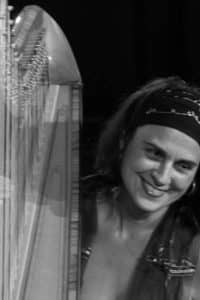 After beginning harp at the age of six at the Nice Conservatory, France, with Elisabeth Fontan Binoche, Christine Icart brilliantly finished her studies with the first prize of harp at the Superior Conservatory CNSMD – Conservatoire National Supérieur de Paris in the class of Gérard Devos, and at the same time improved with Marielle Nordmann for 7 years.
She has won numerous international competitions: First Prize in the Lily Laskine International Competition (the only French prize-winner since its creation), First Prize in the Louise Charpentier International Competition, Prize of the Foundation for the Vocation Bleustein Blanchet, Prize-winner of the Philip Morris Music Action, Prize of the Sacem, Prize winner of the Natexis-Banque Populaire Foundation.
Alongside her soloist career, Christine Icart has always been very attached to transmission. She holds a french teaching diploma CA and started teaching at the age of 18. She has trained many amateurs and professionals.
In 2011 she was appointed professor of harp, reading and chamber music at the Music Superior Conservatory of San Sébastian "Musikene" in Spain. She has also been teaching  in France since 1988.
Currently, she also teaches at the National Conservatory, CRR – Conservatoire à Rayonnement Régional de Rueil Malmaison and she is regularly invited to take part in juries (CNSMD de Paris and Lyon, International competitions, diploma training for teaching certificate, Cefedem…).
A large part of her career is devoted to chamber music, which she shares with musicians such as Philippe Bernold, Emmanuelle Bertrand, Renaud Capuçon, Patrice Fontanarosa, Benoît Fromanger, Juliette Hurel, Michel Moragues, Marielle Nordmann, Bruno Pasquier, Philippe Pierlot, Jean-Guihen Queyras, Jean-Pierre Rampal, Nemanja Radulovic, and others.
She has also performed as a soloist with La Capella Istropolitana (Bratislava), the Mendelssohn Chamber Orchestra, the Toulouse Chamber Orchestra, the "Orchestre de chambre d'Auvergne", the "Orchestre des Pays de Savoie", the Brussels orchestral Ensemble…
Her repertoire stretches from the 18th to the 21st century and has led her to perform as a soloist or in chamber music in venues such as Gaveau, Pleyel, Radio-France, Théâtre des Champs Elysées, Paris Orsay museum, Paris Georges Pompidou center, Royaumont Foundation as well as in numerous festivals in France and abroad, notably in Germany, Spain, Italy, Indonesia, Thailand, New Caledonia, Russia…
She has recorded a flute and harp CD with Philippe Bernold, Louis Vierne's Melodies with Mireille Delunsch, a CD/DVD based on Joseph Kosma's melodies recorded with singer Françoise Masset who has obtained 5 Diapason, Claude Debussy's Sonata for flute, viola and harp with Juliette Hurel and Arnaud Thorette, and the "Danse sacrée" and "Danse profane"  from Debussy with the french "Orchestre des Pays de Savoie".
Christine Icart was also the founder and artistic director of Les Rencontres Musicales de Savoie from 1998 to 2013 (annual program and summer festival).