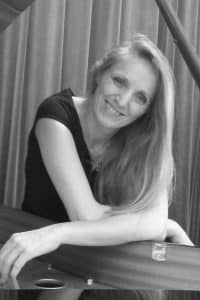 During her many travels, Cécile Deneau met, played and perfected with Isaac Stern, Eugene Istomin, Amadeus Quartet, Leon Fleicher, Trio Fontenay, "Trio à cordes de Paris", Jean-François Heisser, Jean-Claude Pennetier, David Abramovitz, Emile Naoumoff, Dominique Merlet, Alain Planes, Clive Britton, Gaby Casadesus, Yvonne Loriod, Tabea Zimmermann, Michel Mikalakakos, Isabelle Faust….
Her career has taken her on tour in the USA, Canada, Spain, England, Scotland, Italy, Germany and of course France (festivals of Les Vaux de Cernay, Orangerie de Sceaux, La Roque d' Anthéron, Radio France, Auditorium St Germain, Church of Billettes, Théâtre Sylvia Montfort, Salle Gaveau, Salle Cortot…).
Eclectic, pianist, chamber musician, conductor of singing, Cécile Deneau appreciates all the repertoires. As a soloist and also playing  with orchestra, from sonata to quintet, 2 or 4 pianos, Cécile Deneau has also performed as an actress at the Festival d'Avignon and in Paris for nearly 2 years.
It is above all in sharing that her passion blossoms. After studying at the Conservatory, CNR of Aubervilliers – La Courneuve (France) and obtaining first prizes in piano and chamber music, Cécile Deneau obtained a concert licence unanimously from the Ecole Normale in Paris (class of Germaine Mounier), then improved at the Superior Conservatory – Conservatoire National Supérieur de Musique in Paris. There she obtained the first prizes in piano and chamber music.
Also at the CNSMDP, she improved in chamber music with the Pelleas Trio in the class of Christian Ivaldi.
Cécile Deneau wins the international competitions of Illzach, Vercelli, Guérande, Fnapec, and she is also winner of the international competition of Florence – Italy.
She records under the Fnac label, works for trio but also works by Michel Meynaud.
Today, Cécile Deneau teaches at the PôleSup93 and at the National Conservatory CRR of Aubervilliers – La Courneuve to transmit, share and accompany students.
Many of them, who hold their teaching diploma, are now teaching.
In october 2017, she is invited for master classes in China (Shangai Beijing Wuhan Guangzhou).