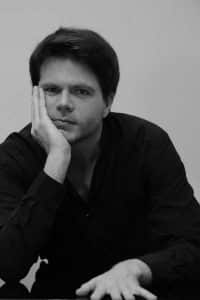 The piano and Axel Lenarduzzi is a relationship that had its first apotheosis, in the mythical city of Rome, with the Higher Diploma of Perfection, from the National Superior Academy Santa Cecilia in the class of Sergio Perticaroli. Mark of a desire to confront multiple methods and sensitivities, in order to then better transmit. Indeed for him, being a musician, performer, pedagogue, is an opportunity for openness, for self-discovery, for the human being… Thus, alongside his piano journey, he nurtured literary and philosophical affections.
Before the Roman finale, his musical apprenticeship began at the conservatory of Asnières, followed by the National Regional Conservatory of Boulogne-Billancourt, the National Regional Conservatories of Montpellier, and Paris. He worked with Bruno Rigutto, Pascal Devoyon, Gery Moutier, before joining the class of Jean-Claude Vanden Eynden at the Royal Conservatory of Brussels which was an opportunity to discover the Del Pueyo method and the educational and artistic work of Marie Jaëll. His curiosity and his study of musical and bodily gestures led him to an advanced practice of Tai-chi.
Winner of international competitions in Italy and in France including Vignola Classica, Liszt, Naoumoff, Lyon's Club.
He performs regularly for the Tempietto di Roma Festival, the Notte Classice Festival, American concert tours, in recital and duo with pianist Robert Holm, Festival Coream, Gorges du Tarn, Les Week-end du Piano, Musique en Fête d'Alsace where he recreates on stage the great sonata by Marie Jaëll, Classical and Jazz Val-Thorens, the Château de Martigny Festival, Trinity Concert series in New Orleans, the Château de Nailly for a piano/ theatre show, Vauluisant Abbey Festival, Calvi Festival, Hulencourt Art Project, Lagord Festival, The piano in all its glory, the Arbousière musicals, Talloires Abbey Festival, Paris Deco-off, Epernay Musicals, PagArt Festival, Domaine de la Tour Festival, Festival les Grands Crus Classiques, Verbier Festival, for a music and brain workshop with neurologist Pierre Lemarquis…
As a regular chamber musician, he plays with violinists Svetlin Roussev, Akika Hayakawa, Alexandra Greffin-Klein, singers Clémentine Decouture, Karina Desbordes, Ulrike Von Cotthem, pianists Robert Holm and Jean Marie Cottet…
He recorded several albums, "Liszt Invocation", and "Alpha and Omega", as well as "In Concert" and "Famous Piano Duo" on his US tours. Since 2021, he has been the Musical Artistic Director of the Murmures Festival for contemporary creation.
He is a piano teacher at the Conservatory Claude Debussy in Paris (17) and at the Conservatory Camille Saint-Saëns in Paris (8).
Axel Lenarduzzi regularly gives master classes in the United States at the University of Mobile "University of South Alabama". He also gives numerous conferences on piano technique and interpretation.