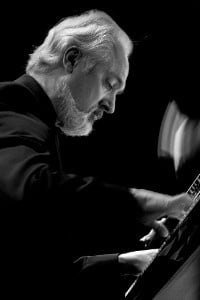 Concert player and professor of piano, chamber music, organ and music theory, Antonion Soria studied at Barcelona "Conservatorio Superior de Música del Liceo" and in France at Bordeaux CRR – Conservatoire à Rayonnement Régional with Ramón Coll and Francis Chapelet.
Numerous great pianists influenced highly his career , such as Vlado Perlemuter, Maria Joao Pires, Joaquín Achúcarro, Germaine Mounier, Walid Akl, Alexis Weissenberg and Alicia de Larrocha.
Alicia de Larrocha supported his first worldwide recording of the "Integral Piano of Joaquín Turina" (IPJT) executed on 16 CDs, Best Spanish Production Prize of Ritmo magazine 1995, Compact CD Prize 1997, this recording has been called "Integrally Historic" by Alicia de Larrocha, who personally invited Antonio Soria to offer master classes in the Escuela Granados-Marshall in Barcelona during its centenary year.
Antonio Soria performs as a soloist in Spain, Portugal, Poland, Italy, Denmark, Bulgaria, Mexico, USA, Egypt, Germany, Austria, Brazil, Sweden and France with the Kremlin Chamber Orchestra of Moscow, the Leos Janaceck Chamber Orchestra, Camerata Mediterránea, Sofia Soloists Chamber Orchestra, FM Classics Symphonic Orchestra, Orquesta Sinfónica Estatal de México, Greensboro Philharmonia, Orquestra della Magna Grecia, Craiova National Orchestra, Orchestra Pistoiese Promusica, Orquesta Sinfónica de la Universidad de Guanajuato, Cappella Istropolitana, Toulouse Chamber Orchestra, Bacau State Orchestra, conducted by Misha Rachlevnsky, Guerassim Voronkov, Plamen Djouroff, Velizar Genchev, Maurizio Colasanti, Robert Gutter, Jesús Medina, Daniele Giorgi, Raúl Gutiérrez, Wolfgang Czeipek, Valentin Doni, Jeff Silver Schlag and Miklos Talkas with such artists as Elena Obraztsova (mezzo-soprano), Ana María Sánchez (soprano), Robert Expert (countertenor), Marçal Cervera (violoncello) or Paul Badura-Skoda (four-hands piano).
International critic presents Antonio Soria as "a great continuator of the glories of the piano such as Iturbi and De Larrocha" (Horacio Velázquez. Correo Musical de Buenos Aires- Argentina – no186, Oct.Nov.1997).
In 1994, as a pianist of the duo Reinecke, Antonio Soria was the winner of the competition "Paper de Música de Capellades" by an unanimous jury chaired by Ros Marbá.
Antonio Soria is doctor and master in Aesthetics and Musical Creativity, Diploma in Advanced Studies from the University of Valencia. He is Professor at the Conservatorio "Oscar Esplá" in Alicante since 1995 and has been also Professor in the Department of Keyboard and Polyphonic Instruments in the Conservatorio Superior de Música "Salvador Seguí" de Castellón since 1998. He has recently also been appointed, in september 2015, piano professor at the Music professional Conservatory  "Tomás de Torrejón y Velasco" in Albacete (Castilla-La Mancha).
Antonio Soria is a guest teacher in various international master classes and he is also member of the jury in national and international competitions. 
He has been appointed by his home town major's office as an ambassador of the Feria in Albacete (Albacete Fair), declared of international tourist interest, in commemoration of the third centenary of the privilege given to the town by King Philippe V, in 1710.
.