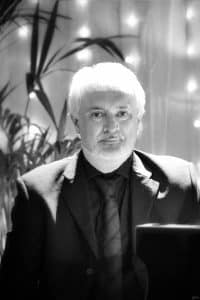 "More than the well earned applause, we should feel eternal gratitude to the thoughtful promoter and to the research and interpretation. The complete and true Turina has arrived with exquisite quality and intuition with the reasoning of mind and heart."
Enrique Franco – Musicologist and critic of EL PAÍS (Madrid, 25th September 2000)
Concert player and professor of piano, chamber music, organ and music theory, he received the basis of his musical training in the Conservatorio Superior de Música del Liceo de Barcelona and the Conservatoire National de Region de Bordeaux (France) under the tutelage of Ramón Coll and Francis Chapelet. Among great pianists, such as Vlado Perlemuter, Ma Joao Pires, Joaquín Achúcarro and Germaine Mounier, influenced highly his career Walid Akl, Alexis Weissenberg and Alicia de Larrocha, who supported the "Integral Piano of Joaquín Turina" (IPJT) performed by Antonio Soria on 16 CDs, as the world's first recording, Best Spanish Production Prize of Ritmo magazine 1995, Compact CD Prize 1997, and qualified like "Integrally Historic" by Alicia de Larrocha, who personally invited Antonio Soria to offer master classes in the Escuela Granados-Marshall in Barcelona during its centenary year. Among his numerous live recordings, was invited by José Luis García del Busto (secretary of the Real Academia de Bellas Artes de San Fernando) in the monograph program "Pianists Spanish" performing works by Soler, Chopin, Granados, Turina, Ravel and Villalobos, on the 50th anniversary of Radio Clásica RNE.
Antonio Soria performs as a soloist at recitals and concerts in Spain, Portugal, Poland, Italy, Denmark, Bulgaria, Mexico, USA, Egypt, Germany, Austria, Brazil, Sweden, Turkey, Macedonia, Norway, Russia, Romania and France with the Kremlin Chamber Orchestra of Moscow, the Leos Janaceck Chamber Orchestra, Camerata Mediterránea, Sofia Soloists Chamber Orchestra, FM Classics Symphonic Orchestra, Orquesta Sinfónica Estatal de México, Greensboro Philharmonia, Orquestra della Magna Grecia, Craiova National Orchestra, Orchestra Pistoiese Promusica, Orquesta Sinfónica de la Universidad de Guanajuato, Cappella Istropolitana, Sinfónica de la Universidad Autónoma de Nuevo León (Monterrey), conducted by Misha Rachlevnsky, Guerassim Voronkov, Plamen Djouroff, Velizar Genchev, Robert Gutter, Jesús Medina, Andrea Barizza, Daniele Giorgi, Raúl Gutiérrez, Valentin Doni, Jeffrey Silberschlag, Salvador Brotons, Johannes Rieger, Aurélien Bello di Francia, Reinhard Seehafer, Gilles Colliard and Miklos Talkas, among other artists as Elena Obraztsova (mezzo-soprano), Ana María Sánchez (soprano), Robert Expert (countertenor), Marçal Cervera (violoncello), Paul Meyer (clarinet) or Paul Badura-Skoda (four-hands piano). He has also been on the cover of Audioclasica, Ritmo, CD Compact; an international critic presents him as "a great continuator of the glories of the piano such as Iturbi and De Larrocha" (Horacio Velázquez. Correo Musical de Buenos Aires- Argentina – no186, Oct.Nov.1997).
In 1994, as a pianist of the duo Reinecke, he was the winner of the competition "Paper de Música de Capellades" by an unanimous jury chaired by the prestigious spanish conductor Antoni Ros Marbá. Antonio Soria is doctor and master in Aesthetics and Musical Creativity from the University of Valencia. He's professor in the High Conservatory of Oviedo (Principality of Asturias). He is also a guest teacher at various international courses of musical performance: "Course of High Musical Perfection for Singers" in Callosa d'en Sarriá, together with Elena Obraztsova; Baroque Music Course in Benidorm; "International Summer Course" in Denia (1995 edition, together with figures such as Victoria de Los Ángeles); Festival-Academie aux Arcs, France. Antonio Soria is the academic and artistic director of the ISLIM (Superior Institute of Music Language and Performance (created by the SOCA [Fundación Sociedad de Conciertos de Albacete -institution he chairs since 2000-], the Castilla-La Mancha University, and the ISEAcv [Higher Institute of Artistic Studies of the Valencian Community], and the Filarmónica Cervantes Project. He has been appointed by his home town major's office as an ambassador of the Feria de Albacete (Albacete Fair), declared of international tourist interest, in commemoration of the third centenary of the privilege given to the town by King Philippe V, in 1710.
Member of the jury in national and international competitions: "Ciudad de Albacete" (Jeunesses Musicales, 1995-2000), "Becas de Alta Especialización de la IAE" (Madrid, June 2003), "V Concurso Internacional de Piano Compositores de España" (Madrid, November 2004), "XXII Concurso Internacional de Musica da Cidade do Porto" (October 2005), "XXII Clara Haskil" Piano Competition (Switzerland, August 2009), "X Concurso Internacional de Piano Compositores de España" (Madrid, November 2009), "XX Concorso Internazionale Pianistico AMA Calabria" (Lamezia Terme, May 2010). "IV Moritz Moszkowsky, International Piano Competition" (Kielce, Poland, May 2011), "VIII Franz Liszt Piano Competition" (Grottamare, Italy, October 2015), "XXVI Piano Roma Competition "Frédéric Chopin", October-November 2016), "Alexander Scrjabin International Piano Competition, Grosseto, 2018 February).