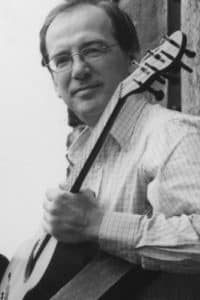 Ansgar Krause studied music at the Musikhochschule Köln with a major in guitar under Prof. Tadashi Sasaki. Master classes with José Tomás, Antonio Lauro and John Williams completed the training.
In 1979 he won the 14th Concorso internazionale di Chitarra Classica in Milano. At the age of 25 he was entrusted with the direction of a guitar class at the Musikhochschule Köln, where he is still teaching.
Since 1986 he has been teaching at the Saar Music Academy in Saarbrücken, where he was awarded the title of professor in 1998.
Concerts as a soloist or in guitar duet with Thomas Müller-Pering have taken him to different European countries and South Korea. The teaching activity was supplemented by lectures and master classes at other German universities and at festivals in Iserlohn and Koblenz.
A further important part of his work is the production of sophisticated and partly novel transcriptions for the guitar.