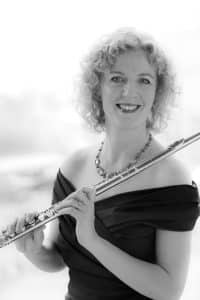 Anna Garzuly-Wahlgren is professor for flute and chamber music on two renowned Music Universities in Germany, in Weimar and in Leipzig.
She was longstanding principal flutist of the Gewandhaus Orchestra in Leipzig following her studies in Budapest, Munich and New York.
She is a valued international soloist and chamber musician, prizewinner of a number of major international music competitions like in Geneva, Scheveningen, Kobe, Markneukirchen and Budapest.
Her solo performances include concertos with the Gewandhaus Orchestra under Herbert Blomstedt and Riccardo Chailly.
As a chamber musician she worked with the Sabine Meyer Ensemble, the Linos Ensemble, the Gewandhaus Octet, the "armonia" Ensemble, the Neues Bachisches Collegium Musicum and the Munich and Leipzig Chamber Orchestras among others.
Anna is a founding member of the renowned Leipzig Flute Ensemble " Quintessenz".
Her versatility in music styles and the colorfulness of her playing is recognised internationally. She appears on several rewarded orchestra and chamber music recordings.