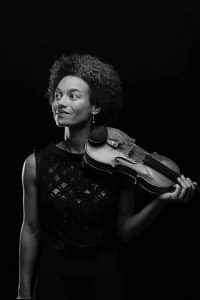 A
nn-Estelle Médouze studied with Tibor Varga in Switzerland, Pinchas Zukerman and Patinka Kopec at the Manhattan School of Music in New York, and Jean-Jacques Kantorow at the CNSMD – Conservatoire National Supérieur de Musique et de Danse in Paris.
Ann-Estelle is a prize-winner of the International Competition "Vaclav Huml" in Zagreb in 2001 and of the Long-Thibaud Competition in Paris in 2002, where she received the Prize for the best interpretation of a work by Mozart.
Curious and passionate, her career demonstrates her versatility:
Ann-Estelle Médouze has been a soloist with the Orchestre National d'Île-de-France since 2004, and she is frequently invited to this position by prestigious international orchestras such as the Rotterdam Philharmonic, the Chamber Orchestra in Paris, the Orchestra of the National Art Center in Ottawa- Canada, the Royal Philharmonic Orchestra in London, the Symphonic Orchestra "la Monnaie" in Brussels, the Orchestra "d'Auvergne" – France.
As a soloist, Ann-Estelle has performed under the direction of David Gilbert at Carnegie Hall in New York, Pinchas Zukerman, Zdenek Macal, Menahem Nebenhaus, Pablo Castellano, Emil Tabakov, Takuo Yuasa, Yoel Levi and with the Baltimore Symphony Orchestra, the Civic Orchestra of Chicago, the National Orchestra of Venezuela, the Sinfonietta Beer-Sheva in Israël, the french National Orchestra of Ile-de-France, the National Orchestra of Lyon – France…
In 2015, Pinchas Zukerman invited him to Ottawa to play Bach's double concerto with him and also to play as an octet with Itzhak Perlman.
Passionate about chamber music, she is a guest at major festivals such as the Santa Fe Chamber Music Festival, the Perlman Music Program in Sarasota – Florida, and she also performs alongside Pinchas Zukerman, Itzhak Perlman, Roland Pidoux, Alain Meunier, Michel Strauss, Vladimir Mendelssohn, Ralph Kirschbaum, Bruno Pasquier, Ori Kam…
Ann-Estelle Médouze is part of the Brancusi trio.
Happy to transmit, Ann-Estelle is committed to teaching young violinists in Martinique. Since 2013 she has been a professor at the Superior Conservatory : Pôle d'enseignement supérieur de la musique de Seine-Saint-Denis, "Pôle sup 93".