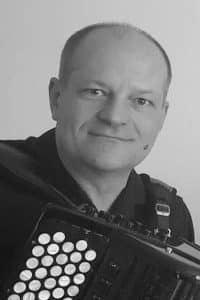 Andrzej Rytwinski was born in Poland and was laureate of the Musical University Frédéric Chopin in Warsaw in 1994 (class of Professor J. Jurek). He completed his studies at the CRR – National Conservatory at La Courneuve (Paris area).
He improved with such teachers as F.Lips, M.Ellegard, A.Melichar, A.Dmitriev, V.Semyonov, etc. during numerous musical interpretation seminars.
Andrzej Rytwinski is an active musician in various formations (klezmer music, traditional and contemporary music, French variety music, etc.).
He is regularly invited to various festivals in France, Germany, Switzerland, Italy, Poland, Czech Republic, Norway, Alaska, China…
Andrzej Rytwinski is an accordion teacher in France, he now teaches at the Mulhouse Conservatory as well as the Konservatorium für Musik und Theater in Bern, Switzerland.