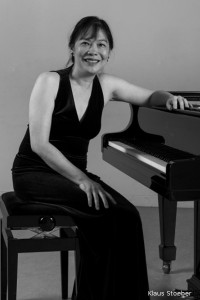 Pianist Amy Lin was born in Taiwan, and immigrated to the United States with her family as a youngster. She began studying the piano at the age of five, dividing her time between two passions: music and mathematics. Thanks to a merit scholarship in mathematics, she attended The Johns Hopkins University in Baltimore for a bachelor's degree in math while also studying piano with Enrique Graf at the Peabody Institute. There, she met the renowned pianist Leon Fleisher, and attended his weekly masterclasses for three years. After earning her math degree, she entered the Peabody Conservatory and spent the next ten years working intensively with Fleisher, receiving a Master's degree and Artist Diploma. As a direct descendant from the "Beethoven school" (through Czerny, Leschetizky, Schnabel and Fleisher), Amy Lin takes special interests in the music of Mozart, Schubert, and Beethoven. In order to further her understanding of the great German traditions, she spent two years in Germany, where she worked with pianist Gerhard Oppitz at the Hochschule für Musik in Munich and was awarded the highest honor, the Meisterklassendiplom. Other precious musical mentors have included Leonard Shure, Fou Ts'ong, and Krystian Zimerman.
Amy Lin made her debut with the National Symphony Orchestra at Kennedy Center for the Performing Arts in Washington D.C. in 1981, and has since appeared in recital and as soloist with orchestra in Germany, France, Switzerland, Italy, Austria, Belgium, Latvia, Brazil, Japan, Korea, Taiwan, New Caledonia, and in the United States. Ms. Lin's repertoire is wide-ranging and diverse. She excels particularly in the music of the great Viennese tradition. Recently she has also become interested in the music of contemporary composers, many of whom have entrusted her with the performance of new works. Amy Lin has recorded CDs of piano compositions of Mozart, Schubert, Beethoven, Debussy, Schumann, Chopin, and of Asian composers Chou Wen- Chung, Qigang Chen, Xiaoyong Chen, Chen Yi, Keeyong Chong, Tan Dun and Zhou Long. Together with recordings from live concerts, the public can find and listen to her videos and audios on YouTube.
An inspiring and much sought-after teacher, Amy Lin is a professor at the Conservatory of Strasbourg in France. In 1996, she was awarded a Fulbright Senior Scholar Research and Lecture Award and spent six months in Brazil as visiting professor, giving masterclasses and performing throughout Brazil. Amy Lin is frequently invited to give masterclasses in leading conservatories and music schools, such as Yale University, Peabody Institute, Musikhochschule of Weimar, Royal Conservatory of Brussels, and Seoul National University. She enjoys sharing her passion for music with students who come from around the world; many of them have gone on to lead active and successful musical lives.
Amy Lin teaches in English, French and in Mandarin Chinese.