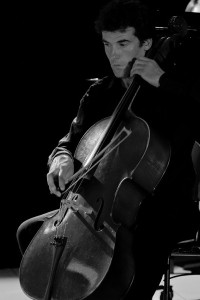 Trained by Marc-Didier Thirault and Klaus Heitz, Alexandre Lacour appears regularly in various formations. Member of the Cellissime cello quartet with which he creates works of Mr. Meynaud and O. Strasnoy, he was invited to play in Canada, Japan, and more recently in Lodz, Poland.
Alexandre Lacour is also invited to perform in festivals in France and abroad, including the Festival of Chamber Music Provence "Musical Goats" or in China with such artists such as Anton Martynov Igor Lazko, Amanda Favier Marina Milinkovich, Lyda Arguerich Alexander Ghindin, Christophe Morin, Lorenzo Gatto…
Alexandre Lacour is professor in Fresnes Conservatoire (CRD).