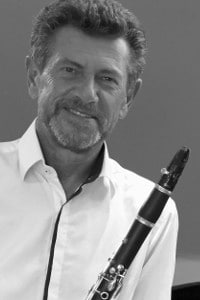 Af
ter two First Prizes at Mulhouse and Versailles Conservatories, Alain Toiron obtained his First clarinet and chamber music prizes at the Conservatoire National Supérieur de Musique – CNSMD of Paris in the classes of Master Ulysse Delécluse and Christian Lardé.
He joined the "Opéra du Rhin" as a solo clarinet of the Symphony Orchestra of Mulhouse, and he led an active career as a teacher and chamber musician, in particular as a member of Wind Quintet.
He obtained two First International Prizes with this ensemble (Stresa and Martigny). 
Alain Toiron collaborates regularly with numerous French and foreign orchestras: Strasbourg, Metz, Nancy, Luxembourg, Basel, Freiburg, Frankfurt, Swiss Italian, Soloists of Moscow…
Soloist at the Mulhouse Symphony Orchestra, Alain Toiron teaches clarinet and chamber music at the Colmar Conservatory – CRD and also at the Lörrach Conservatory (Germany).