When music finds its way where it is not expected…
Since more than 20 years, Musicalta opens classical music horizons with several significant events. Since 1996, we successfully organize each summer a Festival and an International Academy in the heart of the French region of Alsace. In 2013, the creation of "Grandes Scènes Musicalta" was the next logical and meaningful step in Musicalta artistic path, with several concerts of amazing and outstanding artists organized in the most prestigious concert halls in France. The new project "Lyon Printemps Musical", in the heart of the city of Lyon, will have people look at classical music with brand new eyes.
When talking about classical music, we often picture it in an opera concert hall or in Music Academies. It is time to change habits and have musicians play in places where classical music is not usually played and taught!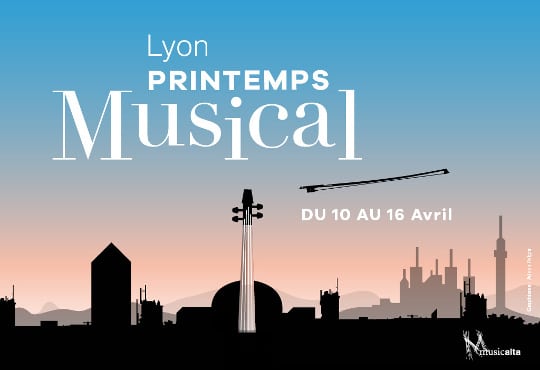 2. Get together young talented and promising students and well-known soloists in a project gathering masterclasses and concerts
Take music out of places where it is usually heard
From April 10th to 16th 2017, in the museums of Lyon, the masterclasses open to the public and the concerts organized in the museums premises will transform the visitors in spectators and listeners ! Not to forget the evening Masters' concerts at the Salle Molière preceded by the « Levers de rideaux » where young promising talents will perform as curtain-raiser.
La Salle Molière
Le Musée des Beaux-Arts
Le Musée Gallo-Romain
Le Musée des Tissus et le Musée des Arts décoratifs
Le Musée de l'Imprimerie
Philippe Bernold
Julien Beaudiment
Jérôme Pernoo
Jérôme Ducros
Danel string quartett with Marc Danel, Gilles Millet, Vlad Bogdanas and Yovan Markovitch
Virginie Robilliard
Françoise Friedrich
Pascale Feuvrier
Marie-Thérèse Keller
Lekeu Trio with Toscane Lequeux, Samson Lequeux and Eva Lequeux 
Confluence string quartett with Daniel Vlashi, Clara Meslé, Pierre-Antoine Codron and Tom Almerge-Zerillo
Yako string quartet with Ludovic Thilly, Pierre Maestra, Vincent Verhoeven and Alan Lebrun
Nikolaï Song