What happens when choir members are not allowed to sing anymore ? They find another way to make music with their body, obviously ! The Choeur des Colibris from the Saint Michel Garicoïtz Middle School in Cambo, France, interpreted Beethoven's Fifth Symphony using their bodies for percussion.
Nelly Guilhemsans, their music teacher, was working on two projects since 2019, in order to celebrate the 250th anniversary of the famous music composer Ludwig von Beethoven in 2020. The first project was a flash mob on the Ninth Symphony, also known as "Ode to Joy". The second was this body tap where the pupils' bodies are used as percussion instruments. They clap their hands, tap their feet, click their fingers, … that's one way to prove singing isn't the only melody our bodies can make !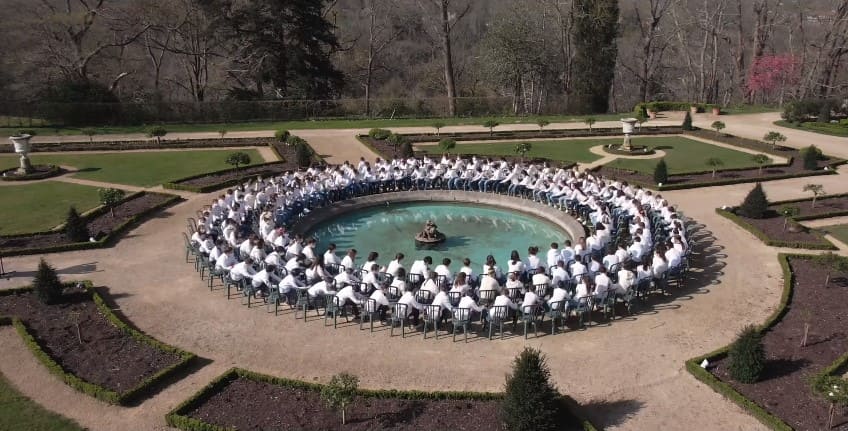 Despite two lockdowns that postponed her project, Nelly Guilhemsans managed to make it come to life. Since September she was training with her students in smaller groups, during lunchtime, to teach them the gestures, the techniques, but also to listen to their propositions and ideas.
On March 24th, the 185 middle schoolers, their teacher and Beethoven back from the dead just for the occasion, find themselves around the Villa Arnaga's fountain to interpret their 4-minute-long amazing choreography. A shooting team was there to record the moment. Check the video here :
As she explains to France 3, Nelly Guilhemsans is dedicated to her pupils and wishes that even in the current sanitary situation, they may keep dreaming and expressing themselves. The video went over 500 000 views today on YouTube. A great reward for the teacher's and her pupils' work.
Apparently, the teacher does not plan to rest on her laurels. She has already planned her next project, but she wants to keep it a secret. This can only make her pupils happy, as they all seem as passionate as their teacher about the projects she makes. If you want to see them with proud smiles on their faces, check the video from another time, before masks were necessary, where they interpret Beethoven's Ninth Symphony :